Pressure Washing & Staining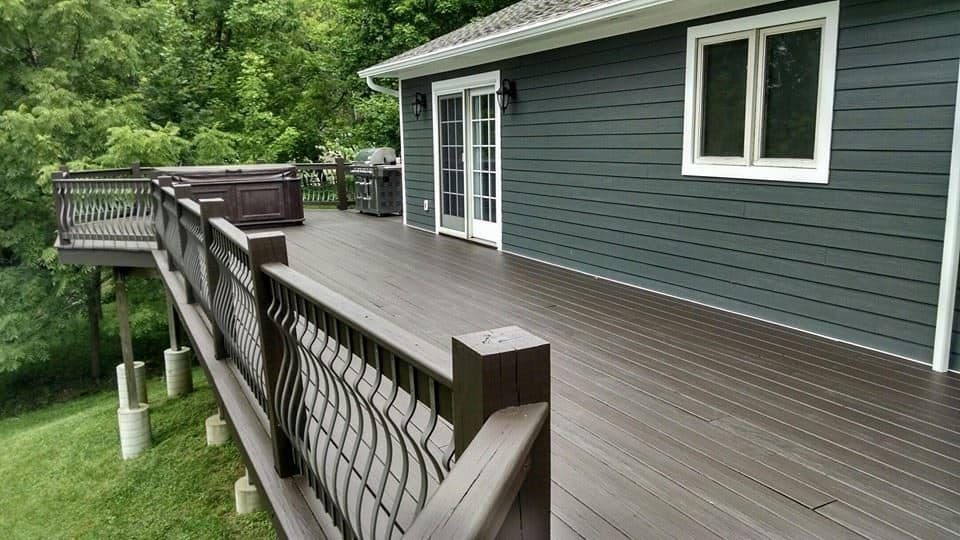 Deck staining and power washing are two services that require a significant amount of skill and experience. At Steel Penn, we have over a decade of experience in performing quality work for a range of different customers in New Jersey. If you are looking for a company to help you keep your deck looking good, our team has what you need.
Pressure Washing Your House
At Steel Penn we work with different types of home exteriors, and we make sure that we have the best and most effective solution no matter the siding of your home. Take a look at some of the most popular types of siding we normally encounter:
Wood siding can be finished using a range of different materials — from oils to solid stains. Depending on the type of finish, a number of problems can pop up over time causing discoloration, chipping or peeling of the wood as time passes. A thorough evaluation must be conducted to make sure that the right solution is applied for your particular problem.
Vinyl is very durable, although it can fade or change color over time. There are many ways to remove any spores on your siding without deteriorating the actual quality of your vinyl. At Steel Penn, we wash your vinyl siding using hot water and pressure, using the best equipment and technology.
Wood Deck Staining Services
When staining and washing your wood deck, there are many things you should keep an eye out for. A lot of the time, staining your deck can be so complex that you have to ask for professional help. For instance, the age of your wood deck can play a role in the way that the stain is absorbed. In addition, if you happen to forget which stain you used previously, you might have trouble matching the colors. Most of the time, this requires the eye of a professional as well as knowledge of all of the different types of products that are currently available.
Before you wash and stain your wood deck, it is important to prep it properly. Steel Penn will always ask you to clear your deck of any furniture, leaves, sticks, dust or appliances such as grills prior to the actual deck job. The reason we believe it is important to fully clear the deck is that the stain might get smudged or streaky if you move objects around while the job is being performed. Once your deck has been fully cleared, we then prep it for washing by using a combination of chemicals which are designed to loosen up the dirt that has accumulated. Following the washing process, we then proceed to stain your deck, either in the existing color or a different color of your choosing.
Professional Deck Washing and Staining
If you are interested in finding out more about getting your deck washed and stained professionally, contact our team at Steel Penn. We offer a free consultation to all of our new customers, so do not hesitate to get in touch with us today at 973-459-1357!
Frequently Asked Questions:
See some of Steel Penn Contracting's most recent deck washing and deck staining projects in New Jersey.
All
Pressure Washing & Staining