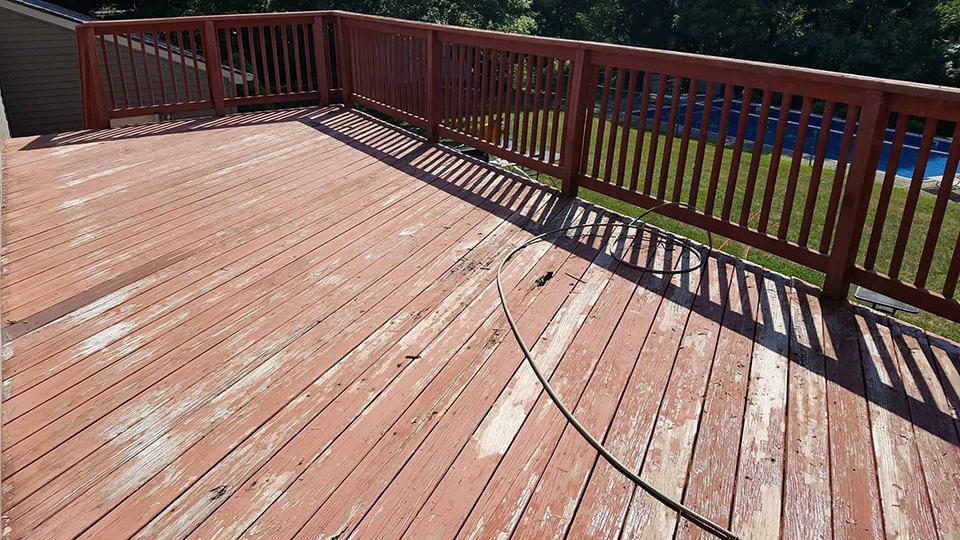 Having a deck is a great way to increase the surface area of your home, boost its resale value and give your family an additional space to relax and have fun. However, a deck also requires periodic maintenance, especially if the wood is prone to rotting or accumulating moisture. If you are interested in ways to make sure that your decking is looking good throughout the year and safe for use, feel free to contact our team at Steel Penn Contracting for more information. We have been conducting high-quality deck waterproofing and repair throughout New Jersey for over a decade. If you are looking for a professional team who are experienced and knowledgeable in this field, allow us to refurbish your deck and restore its natural beauty.
Most Common Types of Deck Repair
If your deck is regularly exposed to the elements and you tend to use it relatively frequently, you will probably notice that the wood will experience a number of transformations over time. Take a look at some of the most common changes our customers report:
Depending on the last time you had professional maintenance on your decking, repairs might be simple or more extensive. However, there is no way of knowing the extent of the repairs needed until we are able to take a closer look at your decking. Whatever the problem, you can trust our team at Steel Penn to carry out the job carefully, paying close attention to detail.
Deck Repair Service and Maintenance
Decks throughout the state of New Jersey experience all four seasons — from hot summer months to harsh winters. If you are looking to make sure that your decking stays in good shape throughout the year, there are certain things that you can do to make sure that it is well-kept. Take a look at the following tips that we give to all of our customers:
If you are looking to minimize damage to your deck, we recommend cleaning it to remove mildew and dirt.
Finishing your deck will increase its lifespan. However, in order to finish it well, it is necessary to use the right product. Our team at Steel Penn will be happy to recommend which product is right for your specific decking.
Nothing is more important than conducting regular inspections of your decking. If you suspect that your wood might be damaged, we recommend gently pushing a screwdriver into each board. If it moves easily through the boards, it could be time for a replacement.
If you are looking to consult with a professional regarding the maintenance of your home's decking, feel free to contact our team at Steel Penn Contracting. We have years of experience conducting a wide range of deck maintenance services throughout the greater New Jersey area, so we would be happy to help. For a free consultation, call us today at 973-459-1357!
Frequently Asked Questions: